Create your own marketing experience
Digital marketing architecture speaks to its audience and tells a story.
Everything your customers interact with or publish online says something about you and your brand's vision and value. Interactive media concepts are a great way to obtain new clients and stabilize your company´s position.
Visualize your message
smartMonolith create communication between customers and content. No matter if you prefer a small screen or a huge projection surface, your presentations can be seen by a number of people at the same time. Your visitors won´t simply consume them passively, they are motivated to participate actively.
Real-time statistics
Receive analytics regarding application numbers, visitors, interactions, attendance figures, visitor frequency or open offers.
Easy communication
Answer requests quicker and easier. Present your products in a modern way – digital.
Registration
Create raffles and application forms easily. Every registration automatically creates an associated adressable record, so all interactions can be recorded individually.
Digital fair-bag
Send your visitors digital goods (documents, catalogues, etc.) on to their smartphones. Online, straightforward. Without any app!
Next generation digital marketing
We are continuously reviewing and developing our exhibition skills and techniques to deliver our clients the best digital marketing solutions.
Online based
The system doesn´t need any dedicated software. Our webbased solution runs on every modern webbrowser. All you need is wireless network on the fair.
Easy integration
The multimedia-based interactive performance can be easily integrated into your communication campaign!
Innovative Design
Our product is based on an amazing cardboard construction, that fits all requirements for a modern and elegant presentation object.
Fully Customizable
the Monolith can be managed by any kind of software meant to perfectly fit the client's needs and location requirements.
Fully Featured
The device comes with all the necessary equipment you need to get started. Simply plug it in, set the software up and you are ready to go.
Technical Support
If any technical issues occur with the device, we´re glad to help you fix the problem or answer your questions.
Watch our tour guide on how to raise the customer's experience within your event up to a new level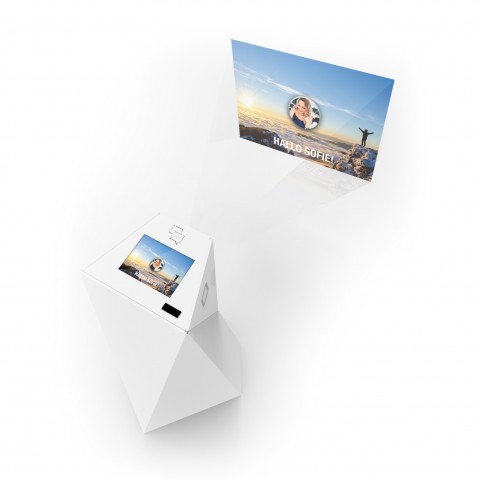 Would like to see more?
Contact us
About Us
We are multidisciplinary creatives. We explore and connect digital and real life. We create visual and physical experience. Our amazing team consisting of interaction and UX designers, software programmers, visual artists, lighting designers and engineers is steadily improving and developing the device.
Flave
Digital invitation management and NFC Expertise. Use our premium one stop service and invite, entertain and excite your visitors and partners
smart.MOM
smart.MOM is a unique, new form of setting up online campaigns. The software is based on a combination of a CRM and presentation software for interactive customer-communication.
PaperTown
PaperTown has specialized in designing innovative and extraordinary products, made out of cardboard. The whole casing of the Monolith is designed and manufactured by PaperTown to create an interesting, new product experience.
Rausgebrannt
Rausgebrannt stands for creativity and innovation in design. The company designed and manufactured all the metal framing on the Monolith to create a unique pysical experience in using it.
We've worked with amazing companies
Custom Setup
If you have special thougts and ideas about setting up your own Monolith, tell us, what you want inside.
Excellent Support
Need help with smartMonolith? Feel free to tell us what´s wrong!
Pricing
With strategic consultancy we advise our customer's on bespoke exhibition solutions that perfectly match expectations and budgets.